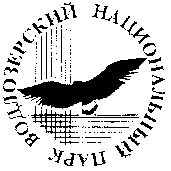 Vodlozero National Park
In these pages I try to tell you everything I know about Vodlozero National Park. Vodlozero is very big, if not the biggest, National Park in Europe, Russia. As I've been there a few times, I decided to help the Park Administration to get some publicity and especially to support their projects to increase the size of the park. This park, although not very well known yet, is indeed one of the most important biosphere and biodiversity preserves in the North European Taiga.

This page is "unofficial" Home Page for Vodlozero park because this is my personal project. I hope the park Administration will be able to maintain these pages themselves in the future. Updated 22nd July 1997. Matti Pellinen.
Documents and pictures available:

Vodlozero Park General Info (pictures and maps)
Description about Vodlozero to become as a UNESCO-World Heritage Site.
Suomalaisen asiantuntijaryhmän lausunto Vodlajärven puistosta vuodelta 1993, Finnish experts report about Vodlozero (In Finnish only)
Vodlajärven alueesta puiston perustamisen aikaan- Oleg Tshervjakov (In Finnish only)


Vodlozero-lake map 1:200000 jpg168 kb.
Vodlozero-park overview map 1:500000 jpg245 kb.

Maps by Jorma Mattson: gif 130 kb, gif 247 kb, jpg 258 kb, jpg 505 kb, Thanks to Jorma.

Tours, travelogues in Vodlozero:
---